OUR CAPABILITIES
Territoria Civil is Australia's leading construction and service's contractor.
We offer design, project management and construction capabilities across a wide variety of market sectors, including infrastructure, building and rail construction.
Our team has a strong history of working ion multi-discipline projects, both large and small, and is well placed to deliver quality results for our customer and the Northern Territory community.
MARKET SECTORS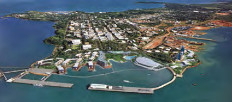 Global Strength with local expertise
Territoria Civil (via John Holland) has unrivalled international project capabilities, enhancing our ability to provide customers with leading solutions across diversified industries and market segments.